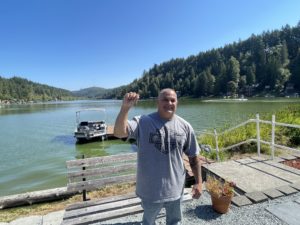 SeattleRingHunter Lost Item Recovery Specialist LAND & SCUBA Call ASAP 206-618-8194
Watch this video of how the SeattleRingHunter recovers a lost gold wedding band of twenty-four years under a residential dock.
Like share and subscribe… 
September 2021 DJ and his wife Kim were enjoying a day on Ohop Lake doing some kayaking. Kim suggested to her husband to take all of his valuables off for safe keeping so he did and casually placed his wedding ring in his t-shirt pocket not thinking twice about it. It was a hot day so when he returned to the dock he took off his shirt off and in doing so he immediately head a few "tink" "think" sounds looked down and watched his gold wedding band of twenty-four hears fall though the slats of the dock into the lake below. In his disappointment as they went to the patio for a bite to eat he started Googling for "Under water ring recovery near you". The search landed him on TheRingFinders.com directory listing. Within a minute he was able to locate my listing allowing him to reach out for an experienced underwater lost ring recovery specialist.
When he reached out to me I was on holiday in Hawaii but I gladly took his call and listened to his situation. After hearing the details of a lost wedding band under residential dock I reassured him that his ring wasn't going anywhere and that as soon as I got back into town and cleared up a few previous searches he'd be scheduled as soon as possible.
That schedule did come and we were still in our warm season making for a wonderful day on the lake. Even though this was a shallow water recovery it had some additional points to work around. The lake was still very silty with a lot of particulate in the water and his ring was under a dock. Even with these additional safety concerns a proper dive plan was made taking care for all safety precautions for a successful outcome. 
Watch the video for the exciting conclusion of a lost gold wedding band of twenty-four years under a dock.
Be sure to like, share and subscribe to my videos. By sharing these videos on your social media it really helps get the word out about our amazing Ring Finders across the nation… 
If you lost an item of value reach out to me directly for a quick chat so I can formulate a recovery plan for you!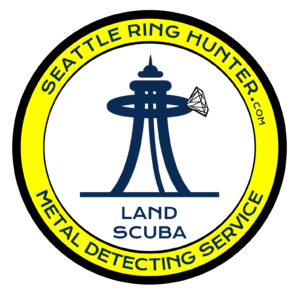 https://TheRingFinders.com/Jeff.Morgan/
http://www.SeattleRingHunter.com
CALL 206-618-8194
YouTube: #SeattleRingHunter