John's Tiffany & Company Platinum Wedding Band
CALL BRIAN RUDOLPH WITH THE RING FINDERS AT (301) 466-8644 AND HE WILL RETURN TO YOU WHAT HAS BEEN LOST!
I received an email from John who shared these words:
"I lost my wedding ring doing yard work Sunday afternoon and would greatly appreciate some help finding it. I've been trying to find it myself and last night I realized that I need more help. Losing the ring came after a particularly depressing weekend for I had to travel for a funeral and the weekend was topped off with me losing the ring. So I feel particularly distraught. Would you be able to help me with the search? Your help would be greatly appreciated."
As you can see, John finally gave up searching for his missing Tiffany and Company platinum wedding band that he lost somewhere in his backyard. He had been working on some outdoor projects such as: raking leaves, weeding, and putting miscellaneous throwaway items including old leaves inside a tumbler composter. All of this was taking place on approximately 2 1/2 acres of land and the missing ring could have come off just about anywhere on his McLean, Virginia estate. When I called John to go over the details of the disappearance of his beloved keepsake, he said that he acquired a metal detector and searched for hours on end, but he could not recover his ring. He went all over his property detecting various target signals, but nothing turned up in regards to what he was looking for. That's when he looked online and discovered, THE RING FINDERS. He asked when I could come out to help recover his missing ring and I told him that I had a couple of hours open later in the day to help with the search.
Later that afternoon I arrived at John's lovely McLean, Virginia estate. He took me to the backyard and it was as large as I pictured it when we spoke on the phone. The surroundings were absolutely breathtaking. He had a large open area of grassy lawn and then there was additional acreage that extended into the woods. He took me around to all of the places that he had been working on the yard, which was pretty much everywhere because he was raking and hauling leaves and weeds over to the woods throughout his weekend of outdoor projects He showed me his compost tumbler and we knew that it was a possibility that he could have lost the ring inside of it. John recalled throwing some of the walnuts that had come down from one of the trees out into the woods. We both agreed that the loose wedding band could have slipped off his ringer at that moment.
John showed me some of the locations where he predominantly metal detected, but where he came up empty-handed. I have to admit that it was a very large stretch of territory, and there could have been all kinds of possibilities as to where that loose ring could have fallen off. Yet, I was not moved by the amount of work that was ahead of me. I have experienced too many stories where such large properties give up the jewelry sooner or later. John was not an experienced metal detectorist and he was not using a machine that was the kind of quality necessary to get this job done. Nor did he have the kind of hours working with his machine that would have helped him interpret and assist him effectively in guiding him to the correct target. We must have gone from one side of the property all the way to the other side, and he even took me back into the woods maybe 15 or 20 yards to point out places where he dragged all kinds of brush and leaves.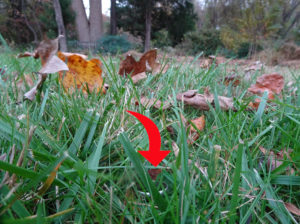 After finishing the tour of all of the locations where John had been doing lawn work, I returned to my car to retrieve my metal detecting equipment. John left me and went back inside the house. I started my search closer to the woods. There were several hotspots where we thought he may have lost his platinum ring, so I covered those areas first. For sections where the brush was highly dense, I used my 6 inch equinox coil on my Minelab Equinox 800 detector. In the more open areas, I used my 15 inch coil which conquers a lot of territory in a very small amount of time. When I couldn't find the ring in one section of the woods, I moved my way over to the next, and so on. No ring turned up.
I began detecting a pathway that led from one side of the lawn to the other side through some wooded areas. I detected both sides of the pathway, but there still was no ring to be found. Because I was limited on time that particular day, I focused more on ruling out the possibility that the ring was lost in the woods. Unless he actually flicked the ring farther into areas that were just too full of brush and tree limbs, I was starting to conclude that the ring was probably lost on the main grassy lawn rather than where all of the trees were located. There would be no way that I could search all of that territory in the two or so hours that I had on that particular day. However, if I couldn't find the ring in a matter of minutes before having to pack up my gear, I would return in the morning to continue the search. It turned out that I did not pull the ring that afternoon. By the time I had to leave to go to my next appointment, I would postpone checking the compost container until the next morning, as well as a couple of other small sections that were full of leaf piles. I did start a grid search on the main lawn in the backyard and did as much area as I could make time for, yet I was not able to find the ring. I saw plenty of places where John had dug up the ground hoping to find his lost wedding band, but there were no fresh surface finds anywhere. I would have to pack up my gear and return early the next morning. I let John know that I was heading off after I searched for a few hours. I would have to wait until the next morning to resume my search. I couldn't wait.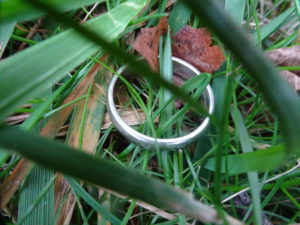 I got up around 5 AM and left my house sometime around 5:30 that morning. I wanted to get back to the search site as early as I could before having to leave for my regular job. I gave myself three hours to search. It was still dark out by the time I started traveling from Maryland into Virginia. I couldn't wait to get to John's estate to resume the search and recovery project. He gave me permission to start detecting as soon as I arrived, so the moment that I pulled up to the property, I gathered my gear and walked back to the rear of the house and set up my detecting equipment.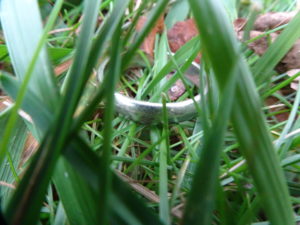 My main focus at this point was to start a grid search from one section of the lawn over to the other side. I used my Equinox 800 detector with a 15 inch coil. I was able to conquer quite a bit of real estate using this "snowshoe" of a coil! Before starting the grid, I emptied out the compost unit where John had been piling leaves and miscellaneous items inside to use as fertilizer for the property. There was a possibility that the ring slipped off his finger and ended up inside the rotator, so I pulled out the contents and detected over the pile that I had made. The ring was not found in the device. Next, I started the grid search going from the farthest point of the grass line straight up towards the house and then back towards the woods again, and so on. Also, to help keep straight and consistent moves with the detector, I brought cones to mark my grid lines, so I was very methodical about how to attack the search site that morning. As I was detecting, I started seeing more and more places where John had metal detected but found nothing. I knew that he had been searching in certain places because I would get a tone indicating that there was metal in the ground and that spot would be cleared away, so I knew that it was searched very recently. John said he covered quite a bit of the property and was frustrated by the time he put the detector down and contacted me. I didn't blame him at all for his frustration because it was a very large property. Unless he was familiar with his detector and he used a machine that was set up for this type of recovery operation, he most likely would have gone right over the ring and completely miss it.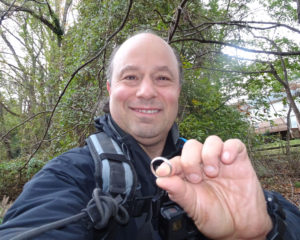 As it turned out, after I reached my sixth or seventh grid line, I checked a particular signal that resembled a target that could very likely be a ring. The target appeared to be close to the surface, if not on top of the dirt hidden in the grass. In addition to those signs, the tone was exactly what I was looking for! There's a certain "skipping" sound that you're looking for when searching for recently lost items. That "bounce" in the sound gives you a good idea that that particular metal is settled above ground, or at least near to. I immediately knelt down and took out my pinpointer to examine the target site. Once I zeroed in on the piece of metal, my eyes beheld the very object that I had been searching for since yesterday! I found John's beloved platinum wedding band! What a delight it was to be able to find it within 45 minutes of my second visit to this beautiful McLean property! I could not have been more thrilled at that very moment!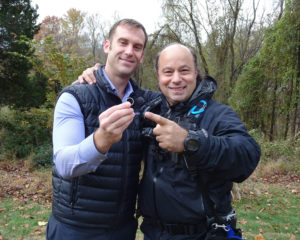 John's platinum ring was discovered close to the center point between the house and where the wooded area began. If you are looking at the back of the house from the lawn, the ring was lined up with the left side of the rear of the house, half way down towards the forest. I couldn't wait to share the happy news with the owner of this very handsome wedding band! I marked the spot where I found the ring and then I planned out how I was going to reveal the ring discovery to John. That was a fantastic morning for all of us! John was extremely happy with my performance in being able to find the missing wedding band and return it to him. When I showed him the location of where I found the ring, he was perplexed because he knew that he had searched that entire section. I knew he had because I saw all of his dig marks. But, I explained to him that without the proper training and utilizing a quality detector, it's like trying to find a one inch sized object with your eyes blindfolded and your ears muted! It's nearly impossible! I was so happy to help him! What a wonderful way to start off my day! I left McLean, Virginia so very satisfied and thrilled that I could help John with getting his ring back!
If you would like to watch the SEARCH VIDEO and RING REVEAL pertaining to this story, the YOUTUBE link will be provided shortly. To receive the notification letting you know when the video is uploaded to YOUTUBE, feel free to SUBSCRIBE to BRIAN'S YOUTUBE CHANNEL by typing: THE RING RETURNER.
CALL BRIAN RUDOLPH WITH THE RING FINDERS AT (301) 466-8644 AND HE WILL RETURN TO YOU WHAT HAS BEEN LOST!
SUBSCRIBE TODAY TO BRIAN'S SEARCH VIDEO YOUTUBE CHANNEL TO RECEIVE NOTIFICATIONS WHEN THIS LATEST SEARCH VIDEO IS UPLOADED! BRIAN'S SEARCH VIDEOS ARE FOUND ON HIS YOUTUBE CHANNEL – THE RING RETURNER.
CHECK OUT MORE OF BRIAN'S SEARCH VIDEOS ON BRIAN'S YOUTUBE CHANNEL: THE RING RETURNER AT: https://www.youtube.com/channel/UCmcn09QqWhHrj-7SGqlUBJQ
CHECK OUT BRIAN'S WEBSITE FOR MORE INFORMATION ON WHAT THIS RING FINDER IS ALL ABOUT!
READ MORE STORIES OF WHAT HE HAS DISCOVERED AND RETURNED!
VIEW THE MANY PEOPLE THAT BRIAN HAS BROUGHT LASTING SMILES TO!
VISIT HIS WEBSITE AT: WWW.THERINGRETURNER.COM