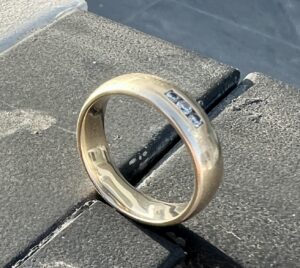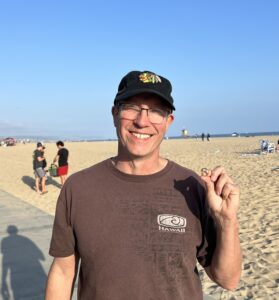 Katie and her family were having a party at their beach front house in Newport Beach, CA. They set up some beach games and other activities on the sand. Sometime during the day her uncle Don loss his gold wedding band in the sand. He told me it happened when he brush sand off his clothes.
The whole family and friends tried their luck at finding the ring. After sifting through the sand with tennis rackets and dragging their fingers the ring was not found. Katie found my contact information while searching the internet.
I was able to meet them shortly after Katie called me as I live 2 miles from the location. After a short discussion about how the loss occurred and what type ring I was looking for, I began a grid search with my metal detector. The ring showed up soon after I began the search. Everyone at the party was elated and surprised that Don's ring was found where so many of them had spent hours trying to find it. Don was happy to have his ring that he has worn for many years.