Vancouver Ring Finder Chris Turner- Ring Recovery Specialist…Lost your ring?… Metal Detecting Service/Call ASAP  Anytime   778-838-3463
I received a text message from a young lady who said her husband lost his gold wedding band (only married three months) in the backyard.
She went on to say she posted it on a Facebook group and a local person came to help but couldn't  find it. They found me online and reached out to see if I could help.
I showed up to the backyard and met he young man, heard the story of the ring, how it was gifted to him by his father on his wedding day. It was his father's ring he could not wear it because he was allergic to the gold. You can imagine how sick he felt by losing it. He was a little freaked out that they were going to have Thanksgiving next weekend at his dad's house.
I asked my typical questions, found out where the person did the searching and after no ring on my search I knew I had to start moving a pile of lumber that was stacked in a work area net to the patio.
After spending 20 minutes, moving some 2×4's I saw the ring laying there in its glory!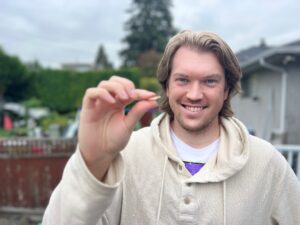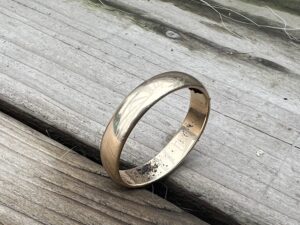 I have the best job in the world, I love helping people more than anything I've ever done in my lifetime. I get to make people smile, I get to hear their stories of what their ring/lost items mean to them and how happy it makes them feel when I find it.