08/17/2014 Lost Ring Lake Conroe, Texas (Recovered)
I was contacted by Katie on Saturday regarding her husband's Lost Wedding Ring in Lake Conroe. Katie said she located me on The Ring Finders directory and wanted to know if I could assist her in recovering her husband's wedding ring. Katie said the ring was in about 4 foot of water off the dock behind their residence on Lake Conroe.
An excerpt from our communications on Saturday.
Hi john…its Katie Harris. I spoke to you regarding my husband's ring that I lost off of our boat dock. So mad at myself. He had his original ring stolen, and we just replaced it a week ago…and now I lost it!!
I asked Katie some details about the location and she was able to provide very descriptive information on the search location. (water depth, bottom conditions –mud, sand or sludge) and whether there was public access to the area to determine the urgency in our recovery efforts.
Katie had been cleaning out her pool skimmer baskets and tossing the leaves and pine needles into the lake. Katie had put on her husband's wedding ring earlier as a reminder to take it to the jewelry store.
I asked Katie to send me some photographs of the dock and the area she believed the ring had been dropped in the water.
Katie sent me the following photographs of the dock and search area.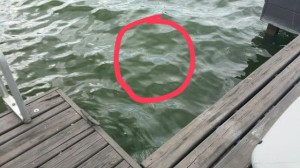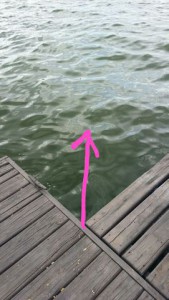 I actually measured…it dropped about 48 inches out at the angle i drew from boat dock-Katie
I made arrangement with Katie to be at her residence the following morning. The plan was to meet with her son Tyler at the residence Sunday morning. I arrived around 10am Sunday morning and meet with Tyler who walked me through the events that led to ring being lost.
I was thinking this was going to be a very fast recovery as the perceived area to be searched was very small. I set out with the At Gold and found the bottom to be relatively clean of signals.  I worked the search area several times with negative results. I pushed the search area out a little further thinking the ring flew a little farther than Katie might have thought. I hit a couple of promising targets, but they were not the missing ring.
I closed in tighter on the search area, and started working under the dock were Katie had been standing and tossing the leaves. Bingo, I hit the ring right next to the edge of the dock, it was  on one of the piers footings.
I was glad to find the ring, I knew it meant a lot to Katie and her husband.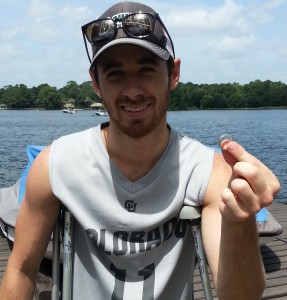 Tyler with his Dad's recovered Wedding Ring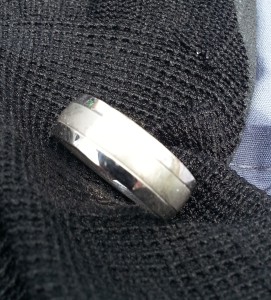 Tyler, thanks for your help, it was a factor in the recovery of your Dad's Ring
Equipment Used:
Minelab Excalibur II
Anderson Extreme Detector Shaft
Garrett AT Pro
Sand Scoop
The Ring Finders Metal Detecting Service
We can search virtually any location, some of the most common places are parks, lakes, beaches and even your own front yard…If you lost your « Ring » or other precious item…We can find it!
We train regularly and use the best Metal Detecting Equipment available insuring the greatest possibility of finding your lost possessions.
www.theringfinders.com/john.volek
Don't wait… Call now!
John Volek
281-330-7758