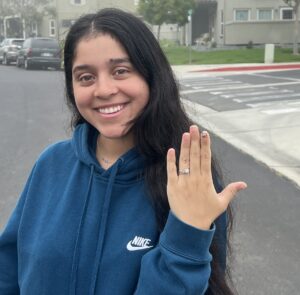 San Diego Metal detector service for lost jewelry recovery Call Curtis Cox @ 760 889 2751 The Ring finders
Recently this summer of 2023 I received a call of urgent help from a lady who had 2 gold diamond rings disappear while boogie boarding at Camp Del Mar beach on Camp Pendleton marine base.
These type of calls are not what many people have worded to me; "Hopeless or a shot in the dark." I know some mysteries of how the ocean works along this littoral cell. Especially when it's only been a day or 2 in the ocean along this particularly flat wet beach. Gold has a density 19.3 times greater than water meaning it won't move,,,Only sink!  I assured her there is a good chance I could find it!
So we arranged the very next morning during an early 7:00am minus Low tide then was shown an approximate area she was riding the waves 4'+ deep. She had to head back home nearby to take care of her newborn meanwhile I scanned & scanned & scanned some more for over an hour until I was nearly too far gridding from where it could of been,,,Like many times in my past,,,As soon as I think about calling quits…I end up finding it. That's when a familiar itchy scratchy low tone signal beeped on my Minelab Equinox metal detector. After 2 Scoops the small round band came popping out!  I checked around the hole and no signals though where's the 2nd ring??,,,I always fill my holes as usual and one important thing to do is check your holes before filling them as a detectorist's Murphy law cause The main mothers diamond ring was just one more scoop down!  I text her pictures of the rings saying they are safe now and even delivered them for her. She was so relieved as you can see in the book of smiles:)

"WHEN YA LOSE YOUR RING,,WHO YA GONNA CALL?"   Curtis Cox 760 889 2751