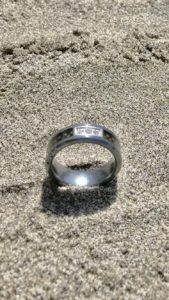 The Ring Finders Metal Detector Service helped find a Lost wedding ring in the surf.
OPEN NOW; Call 760-889-2751
July 7th was a sweltering hot summer day in San Diego when I received a call from Gail about her husbands Lost wedding band which was dropped waist deep in Carlsbad just 30 min before. So I checked the tide books and it was not a good scenario because the tide was coming up fast forecloseing this search until low tide at midnight. I told Gail I was willing to give it a try knowing that it might be found "Now or Never" so I was on my way while she text me their GPS coordinates from google maps. I figured by the time I got there it would be chest to shoulder deep at this point but it was 95* outside and I was in the mood for a wet water search.
As I arrived to the scene of the lost ring the scenario looked even tougher than expected. The surf was pumping with lapping shore break at 2-3 second intervals.
I soon then met the nice couple from Arizona,Gail & J.C. After a few questions and concerns we both had,they pointed in the ocean where he felt the ring slip off waist deep into the breakers.Though It was hot plus worth the shot so I geared up and walked out nearly shoulder deep immediately getting tumbled for about a couple minutes.Suddenly I got a special signal on my Metal Detector and tried to dig it up before the next wave bashed into me,Over and over for what felt like 5 minutes I kept scooping at it getting pushed away from this target multiple times with white wash nearly over head high.I then took one last scoop blindly at this signal again,Swung my Metal Detector around the area and didn't hear it anymore…OH NO!  Looking into my sand scoop I see a bunch of Cobble rocks but no ring? Then I shook the rocks around when what appeared was the  edge of a metallic circle?
I safely walked back out of the water to the couple,Friends,Family and beach goers who were watching,,while I was trying to look discouraged or maybe giving up the search? I showed them the sand scoop with beach rocks in it,I could only hold the bummed look for a couple seconds,so I pulled out J.C's Wedding Ring out under the rocks like a magic trick!
Instantly the Hugs and cheering came pouring in from all over with pulsating energy electrifying the beach.The excitement from these calls are most rewarding and never get old.
Thank you Gail & J.C for the kind reward.
Tags;92054,92008,92011,92024,92007,92075,92014,92037,92109,Zip code