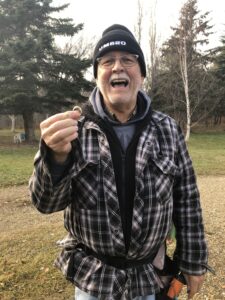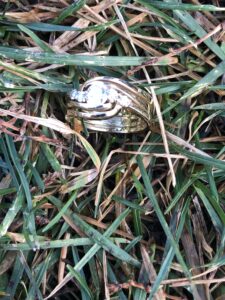 Debbi called me yesterday to see if I could come out to her acreage and help her find her Engagement/Wedding/Anniversary rings which where solder together. They were lost about 30 days ago while she was pulling her plants and cleaning up her flower beds around her house, so she thought!.
After asking Debbie my usual questions in regards to her lost Rings I agreed to meet her at her home around 2 pm. She showed me where her rings could be and the area she traveled to her compost pile with her wheelbarrow.
Firstly I search the flower beds and immediate area, no rings. I then headed to the compost pile, still no rings.  I asked Debbi more questions to try and trigger her memory as to where she had been that day. When she realized her rings where lost she told me she was all over the place and the rings could be anywhere?
After exhausting all possible search areas I told Debbi her rings where not in the area she told me they could be.  I told her the rings could be in the house and to look there.   I also asked if she had looked in her car but she said she had looked so I asked her to take another look. While I was picking up my markers I heard a loud scream, "I FOUND THEM"!  Her rings were in the spare tire wheel well, in the trunk of her Honda. They were in a safe place and who knows how long they would have remained there if I had not insisted that she checked her car.  Debbi was over the moon to have her rings back on her finger.
The moral of this tale is never give up! Thank you Debbi for entrusting me to help you locate your rings.