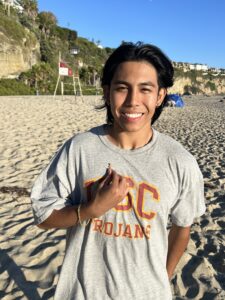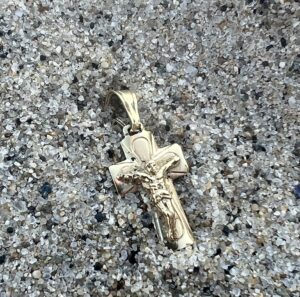 Jorge called Stan the Metal Detector Man member of TheRingFinders.. He needed help to find a very sentimental gold pendant lost in the sand.. if you need help call or text Stan ..949-500-2136
*** Jorge lost a gold cross pendant in the sand at 1000 Steps Beach which is in the city of Laguna Beach. Someone on the beach suggested that he contact me using TheRingfinders website. He called me telling me what happened. 
I told him, I could be at the location in less than an hour. Our chances were good if he stayed there to get me in the general area of the loss.Traffic was not bad which was a good thing. 
After descending a couple hundred steps, I met Jorge at the volleyball court. He showed me where his neckless had broken. After a few swings of my detector I got a faint signal. Put the sand scoop to retrieve the signal. BOOM! There was Jorge's very sentimental gold cross, that had been given to him many years before by his mother.
It was a quick recovery and I was happy to be able to help him. It was a bit tough to climb those 222 steps to the top of the cliff.
If you've lost something important to you call a metal detecting specialist.. Stan the Metal Detector Man ready to help you now.. 949-500-2136 … I WILL TRY ANYWHERE