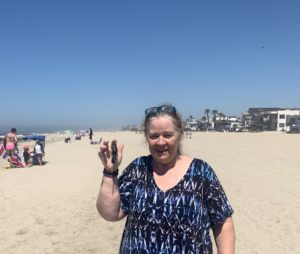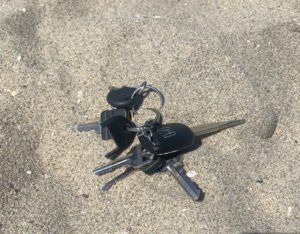 Stan the Metal Detector Man ..  Available Now  .. 949-500-2136 .. 
* ** When detecting on the beach it's always disheartening to find a set of car keys that someone has lost in the sand. It makes me think of how much trouble the person had go through to get home and how expensive it was to replace the keys. I suggest that everyone put contact information on their keys and phones. I always turn keys to the lifeguards. Probably the best chance to get them back to the rightful owner.
I was approached by Norma while detecting at Newport Beach, CA.  She was frustrated because she had to check out if her beachfront rental before noon. (it was 11:45). That morning Norma had gone out for a little meditation session while watching the waves. She believed it was possible the keys we're lost in that location.
We had one problem, she couldn't get me on the exact location. I'm used to that situation because many beaches do not have good reference points. All sand looks the same. I like to remind myself,  don't get excited when someone can't remember exactly where they were sitting. I picked a location to start the process of elimination. Ten minutes later my metal detector hit a strong signal that turned out to be Nora's keys. Another happy person that I was able to help because I was in the right place at the right time.
"I WILL TRY ANYWHERE "   CALL for information and help. Metal detectors are the perfect tool to finding jewelry and other valued metallic item. It does take a quality detector with an experienced professional conducting the search.
949-500-2136 ..