Brian Rudolph, Lost Item Recovery Specialist (Land, Water, Sand, Snow, Leaves, Cliffs, Houses & Vehicles) Will Find Your Lost Keepsake! Call ASAP (301) 466-8644!
Brad was working on Capitol Hill in Washington DC when he lost his very special 14 karat yellow gold classic style wedding band. While taking a break out in the courtyard of one of the adjacent buildings, Brad wiped off some water that was on one of the outside seats and in the process, his priceless piece of jewelry went flying off of his finger and landed somewhere in the grass.
Brad looked everywhere for his ring and some other people also joined in the search but no one, including Brad, had any success in recovering the wedding band. He immediately looked online to see if there was a specialized service that might be able to assist Brad in recovering his lost ring. Thankfully, the gentleman came across the elite international directory of metal detectorists called THE RING FINDERS. That's when I was contacted.
Later that same day, after spending several hours metal detecting with my grandchildren at a local park, the three of us drove to downtown Washington DC to help Brad find his lost ring. Reece and Kayden couldn't wait to power up their detectors and start the search! Brad took us to the grass where he believed his ring had ended up and I, along with my grandkids, began metal detecting the area.
I am excited to share that within 5 minutes or so of beginning the « investigation », my oldest grandson Reece picked up a very encouraging signal on his Garrett Ace 300 metal detector! He knelt down to check out the potential target with his pinpointer and sure enough…his eyes locked in on the awesome sight of the shiny yellow gold hiding below within the many blades of the healthy grass! Reece found the wedding band! He was beyond excited! And so were the rest of us!
Brad could not have been more impressed with our super « ring hero » team effort! He was going to be taking a flight back home the next morning to Alabama, so the timing of being able to acquire our help and recover the ring so fast and efficiently, had truly surpassed all expectations that Brad was carrying within him since making the initial phone call to me earlier in the day!
I am so proud of my grandchildren, Reece and Kayden, who diligently searched for our client's beloved wedding band and in the end, they successfully returned the irreplaceable keepsake to its proper owner! It was a really fun afternoon!
SUBSCRIBE TO BRIAN'S YOUTUBE CHANNEL TO VIEW THIS SEARCH VIDEO!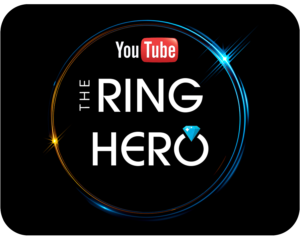 To receive a NOTIFICATION letting you know when the video is uploaded to YOUTUBE: go to YOUTUBE by CLICKING THE LINK BELOW or OPEN your YOUTUBE APP on your device, go to the SEARCH BAR, type: THE RING HERO, click SUBSCRIBE and lastly, CLICK ON THE « BELL » to receive NOTIFICATIONS when this latest search video is available to view! 
BRIAN'S YOUTUBE CHANNEL LINK: 
https://www.youtube.com/channel/UCmcn09QqWhHrj-7SGqlUBJQ
CALL BRIAN RUDOLPH WITH THE RING FINDERS AT (301) 466-8644!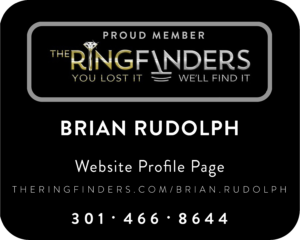 VISIT THE RING FINDER'S WEBSITE TO READ MORE OF BRIAN'S SUCCESSFUL SEARCH STORIES at:
TheRingFinders.com/Brian.Rudolph/
HE WILL RETURN TO YOU WHAT HAS BEEN LOST!
VISIT BRIAN'S BUSINESS WEBSITE FOR ADDITIONAL SERVICES, STORIES AND INFORMATION AT: www.MetalDetectingAdventures.net