Brian Rudolph, Lost Item Recovery Specialist (Land, Water, Sand, Snow, Leaves, Cliffs, Houses & Vehicles) Will Find Your Lost Keepsake! Call ASAP (301) 466-8644!
Peter and Zoe were strolling along the Chesapeake Bay shore of Calvert Beach located in Leonardstown, Maryland, near Long Beach. The couple were picking up shells and enjoying the beautiful scenery together.
At some point, Peter looked down at his hand and noticed that his very special 14 karat yellow gold ring with a large jade stone in the center was missing from his finger. This piece of jewelry meant a great deal to Peter because it was a symbol of his commitment to his fiancé and it was bought to represent his own engagement ring of sorts.
Immediately the couple searched for the lost sentimental keepsake but none of their efforts proved to be successful. What started as a fun little vacation away from home turned out to be extremely upsetting and disappointing especially for Peter.
Sometime during that evening, the couple went online searching for an answer to their very difficult situation. Thank goodness THE RING FINDERS website appeared on their phone screen and they immediately searched for a local metal detectorist to come and help them find Peter's lost ring. That's where I come into the story.
After talking with Peter about all of the details regarding the loss of his engagement ring, I planned a two hour trip the following day to Leonardstown, Maryland in order to recover Peter's special jewelry from the Chesapeake Bay.
When I arrived, I had to walk about a half mile down along path which eventually took me down by the water. Peter and Zoe showed me the stretch of shoreline where they were gathering up shells and presumably lost the gold ring. As soon as I got an accurate picture of what we were dealing with, I returned back to my vehicle to gather up just the right metal detecting equipment and tools that I would need to conduct the search.
The metal detecting project involved swinging the detector coil down into the water about a foot and a half or so deep. As I focused on one particular area where Peter had been searching for shells, I eventually picked up a very promising target signal on my machine. Upon digging up the item, unfortunately it turned out to be some miscellaneous piece of metal.
After approximately an hour of searching the Chesapeake surf, I returned to a particular target signal that was clearly not my client's yellow gold and jade ring. However, I wondered if this massive piece of buried iron could have masked the gold signal that I was hoping to pick up on my metal detector. Therefore, I methodically dug up the metal and discarded it out of the water and then began to swing my detector once again over that area. To my greatest surprise and excitement, there was a perfect target signal that indicated that I might have detected a gold ring below the wet sand just inches away from the water line. My hunch ended up being correct! I found the ring! I successfully uncovered Peter's most handsome 14 karat yellow gold « commitment ring » with a very exquisite jade stone set in the center of the piece of jewelry! I was so thrilled at my discovery!
Minutes later, I had the pleasure of surprising the lovely couple with my find and they could not have been more blown away by what this ring finder dug up from the shore of the Chesapeake Bay! Peter and Zoe were extremely grateful for my successful efforts and all of the hours that I had to travel to the search site and then back to my residence. There's nothing more gratifying than to assist such wonderful people who wanted to preserve a very special part of their romantic love story!
SUBSCRIBE TO BRIAN'S YOUTUBE CHANNEL TO VIEW THIS SEARCH VIDEO!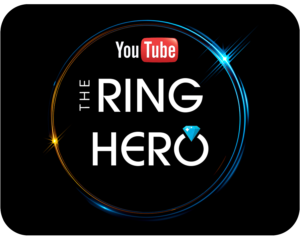 To receive a NOTIFICATION letting you know when the video is uploaded to YOUTUBE: go to YOUTUBE by CLICKING THE LINK BELOW or OPEN your YOUTUBE APP on your device, go to the SEARCH BAR, type: THE RING HERO, click SUBSCRIBE and lastly, CLICK ON THE « BELL » to receive NOTIFICATIONS when this latest search video is available to view! 
BRIAN'S YOUTUBE CHANNEL LINK: 
https://www.youtube.com/channel/UCmcn09QqWhHrj-7SGqlUBJQ
CALL BRIAN RUDOLPH WITH THE RING FINDERS AT (301) 466-8644!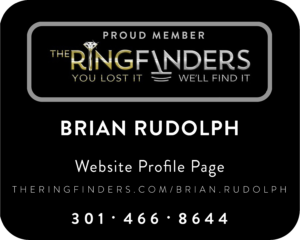 VISIT THE RING FINDER'S WEBSITE TO READ MORE OF BRIAN'S SUCCESSFUL SEARCH STORIES at:
TheRingFinders.com/Brian.Rudolph/
HE WILL RETURN TO YOU WHAT HAS BEEN LOST!
VISIT BRIAN'S BUSINESS WEBSITE FOR ADDITIONAL SERVICES, STORIES AND INFORMATION AT: www.MetalDetectingAdventures.net