On January 27th, I noticed I had a missed call and a voice mail on my cell phone. The voice mail was from Brent, saying that he found me through The Ring Finders website and that his wife had lost a ring. He asked if I would call him back. When I called him, I got the full story.
He had taken his wife and very young son out to dinner the evening before. On the way home, his son had one of "those diapers", every parent knows exactly what I'm talking about, one of those been there, done that, moments.  Brent's wife, Allie was in the back seat and changed the baby. Unfortunately, it got to be a little overwhelming and Allie was compelled to toss it out the window. When she did, her beautiful 18K diamond clustered ring went with it. Allie commented to me, something like, she never does anything like that and she was being punished.
My understanding is they pulled over and immediately started searching for it. According to Brent, he went home and got a metal detector that he'd had as a boy. He also enlisted the help of his dad, Andy. He said, they were out there searching, along the side of the road, into the wee hours of the morning.
Brent text me the nearest address to the location and told me his dad would meet me out there. I plugged the address into my GPS and started the hour plus drive.
I got there a little before his dad and was driving slow along the side of the road looking for a diaper. I finally parked and was walking along the side of the road when his dad pulled up. I followed him down the road a little further where we parked, got out, and introduced ourselves. He walked me over to the spot where I started searching the ditch around the diaper. Andy was walking along the road looking for the ring and in less than a minute, Andy said, "Look what I found." He was probably 10 feet from me and a foot off the road. I took a picture of the ring and sent it to Brent saying "look familiar" and telling him his dad found it. He quickly responded saying "Are u kidding me. That's great!" We worked it out that I'd drop it off at his house and surprise Allie. I followed Andy to Brent's house and waited about a minute for Brent to show up.
I met Allie and told her Brent had called me saying that she lost a ring and asked her to describe it to me. I had it over my little finger with my hand in my pocket and as she's describing it I held my hand up in the air.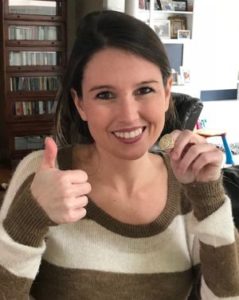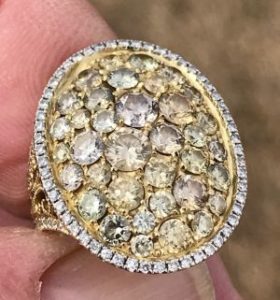 She was very excited.
Andy, thank you, for your help!!
Jim