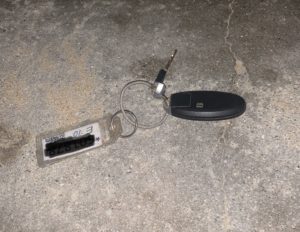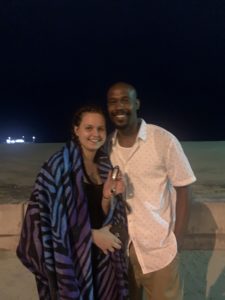 Stan the"Metal Detector Man" Available to Help You Now.. Call or Text  949-500-2136
**** Brittany and her husband from Arkansas are visiting Newport Beach, CA. for the first time. Our west coast beaches are a little different from the east coast beaches. It was nearing peak high tide with large waves. While taking video photos of the larger waves, they got a surprise rogue wave that washed their towels and other belongings over the berm toward the parking lot. 
The rental car key fob was in her shoes. They found the shoes but the car key fob was missing. It was a bit difficult to understand where they were because they kept referring to the pier as a dock. I thought they might be on the bayside of the Newport Penensula. No big deal, it is common for tourists unfamiliar with our beaches to be confused about their location.
It was dark with good lighting from parking lot lights. Brittany believed the key fob was near she retrieved her shoes. I had to start at the beach side of berm, hoping if it had fallen out there it wouldn't get pulled down into the surf line.
Ten minutes later I move to the area where the shoes had been found. A few swings of my detector revealed he lost rental car keys. Both Brittany and her husband were relieved that they were saved the trouble of dealing with getting a replacement for the key. Total time from the time they called till the key was found was less than 45 minutes.
Metal Detector Man  ready to help you find you sentimental keepsake.
I WILL TRY ANYWHERE ….  STAN .. 949-500-2136