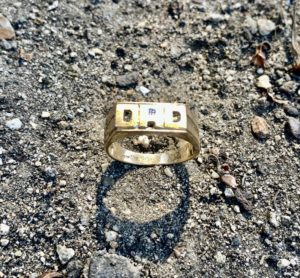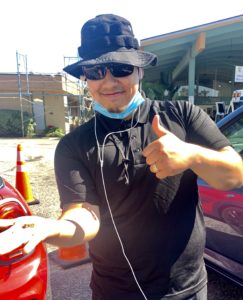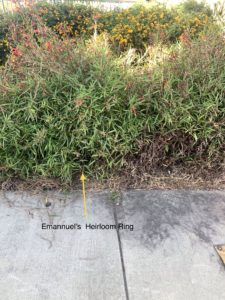 Stan the METAL DETECTOR MAN …. available to help you now.949-500-2136  call or text.
**** I had been called to double check a parking lot and planters where an earring had been lost the week before.. The odds were not favorable because it was a public area with not many places to hide an earring. At the last minute Daniel called to say he could not meet me at the location. Too much time had passed already so I decided to give it a try anyway.
While I was standing in the parking lot with a pinpointer in my hand, I was approached by a security guard named Emannuel. He asked me what I was doing. After explaining that I was searching for a lost earring. He asked me if I could find a gold ring. He said it was very special to him as it was gifted to him by his late father who had worn it for many years. I could see that Emannuel was beginning to tear up just describing how much it meant to him. 
He was a little reluctant to tell me the location until I told him I was a member of TheRingFinders. I thought maybe it may have been lost at another location. It was a surprise to find out that the ring had come off his finger just the other side of the building where we were standing.  Just before Christmas, about five months ago Emannuel had been brushing rain water off the seat of his motorcycle when his gold ring flew off his finger. There were several thick bushes near the location and he had torn through them several times in an effort to find the ring. There was even an area where the rain water drained off into a culvert. 
Emannuel was still working, so I began a general search with my detector. The shrubbery was very thick and I went right away to my Garrett AT pinpointer. Just probing into the base of the plants. After several pieces of tinfoil and a pull tab. I reached into examine signal from the pinpointer and my finger slipped into a ring. BINGO!! That special ring that he had described to me. Five months laying there in the thick shrubs just yards away from where Emannuel worked everyday. It must have been frustrating for him know something a special as his dad's ring was possibly lost forever.
Needless to say the smile and the gratitude expressed by him was priceless. The original list earring was never recovered. In some situations timing is important. If Emannuel had known about theringfinders he may have saved five months of frustration. The important thing is his ring is where it belongs.
"I WILL TRY ANYWHERE "   Call now for help or any questions..
Stan..  949-500-2136