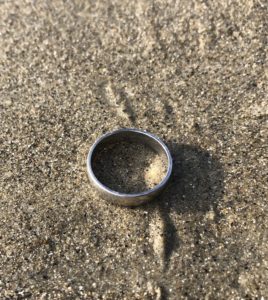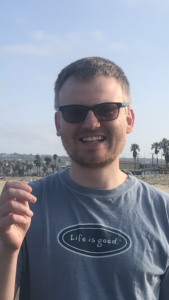 The Ring Finders Metal detector service helped find a precious platinum wedding band ring buried in the Pacific beach ocean sand at San Diego. Call or text 760 889 2751  "Who ya gonna call" ?
   Recently one morning I was contacted via TheRingfinders webpage. David had lost his wedding ring in the ocean surf and was asking if I could help find it…I certainly can always help retrieve lost items with one of many water proof Metal detectors I am equipped with.
After a few mutual questions & concerns, We decided to meet at that exact location on a morning during a much lower tide when the chances of finding any metal objects in the Pacific Ocean surf are much higher.
Upon arriving to the scene of this lost wedding ring my hopes sank as I was looking at large trough holes the size of UFO's plus 6' deep in some areas where the rest of the beach is in its usual state of ankle deep water. These hungry rip tide occurrences can swallow rings as they shift or fill in over night. I once heard about a Detectorist's that fell in these type of holes flooding his machine while nearly drowning at night….He never found what he was looking for.
Long story short, David came down and pointed out the rough area he lost his ring while swimming. Fortunately there was some hope left as half of the search zone was not in the rip lines…Then again half was but I stayed optimistic,Geared up and was able to carefully retrieve his precious ring 3' feet from a UFO hole after only 45 min of searching.
There is never an end to such successful returns I have found,, Because the stories behind these lost wedding rings can now live on.