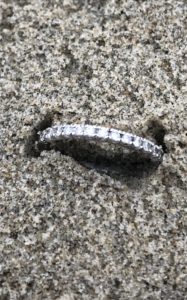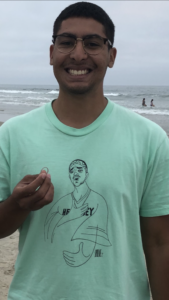 TheRingFinders beach Metal detecting service helped find a lost ring at Moonlight Beach Encinitas. 760 889 2751 OPEN NOW.
As easy as a ring can be lost in the beach sand it can also easily be found by a Metal detector specialist. This call came from a young gentleman regarding his girlfriends lost ring in the sand at Moonlight beach Encinitas.
After a few questions and concerns I immediately stopped what I was doing and headed there to help out.
Fortunately I was able to find this lost gold ring in less then 10 minutes while using my state of the art,Up to date,advanced metal detector that beeped well on this small diamond ring.
He was very relieved I could help find what may of been lost forever. Thank you for the kind reward👍
Your Ring has a story attached to it… that story ends when you lose it! You now have a chance to continue that story by hiring a metal detecting specialist to find your lost ring!
Please Note: Beaches and public area jobs are high priority…(time is critical) the sooner a metal detecting specialist can search for your lost item the better your chances of recovery.
Our goal here at The Ring Finders is to offer you a second chance to find what you thought was lost forever.