---
---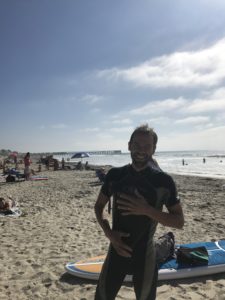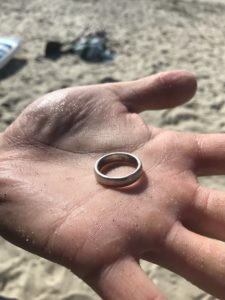 TheRingFinders metal detecting service helped find a lost Platinum wedding ring in the sand at Pacific Beach,San Diego.OPEN NOW;CALL 760 889 2751
Saturday I received a call from Christina about her friend who had just lost his wedding ring at the beach. They were searching in the sand and knew the exact area it fell into so I left my house immediately to help them.
When I arrived they had surfboards surrounding the 8'x8′ area where it was lost.I began Detecting the small area but didn't get any signals.I said,Well it's not here and we'll need to expand this search area a little more. They were almost certain it was lost in that area,I could sense a little doubt of hope while they moved the Surfboards so I swung my Coil over a few feet outside of the box then got a strong signal that sounded like a Ring of (Precious Metals) BOOM..There was Dustin's Platinum band! The smiles lit up with positive energy that circulated the beach.
Thank you Dustin for the kind reward.I am very appreciative and glad to help others.
"WHO YA GONNA CALL"
Curtis Cox 760 889 2751