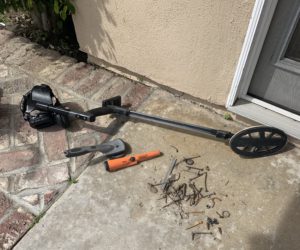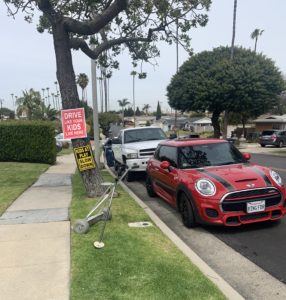 Stan the Metal Detactor Man available to help you now….  Call or Text Now.. 949-500-2136
**** April takes care of three young boys between the ages of 4 and 7 years of age. Lately she hasn't been able to let them play in the backyard because it is littered with hazardous metallic items. They even recently found a sharp knife in a planter. 
April called me asking if I could help her remove remove sharp metallic items from a backyard play area. Besides having a metal detector, I also have a magnetic sweeper on wheels that I could use to retrieve the surface ferrous metals.I wasn't sure how large or what conditions I would be dealing with but I was able to use the magnetic sweeper to save a lot of unnecessary bending down. Then finished off the search with my metal detector retrieving other metals 2"- 3" depth.
They were very relieved to see the nails, screws and other pieces of metal removed from the play area. 
It's always a challenge to use new equipment to help do a task like this. Last time I did a yard clean up, it took me two 3 hour sessions using my metal detector and pinpointer.
It wasn't the same as returning a sentimental piece of jewelry. I was happy to know that April and the mother of the boys had a little peace of mind knowing that the boys have a safer place to play.
"I WILL TRY ANYWHERE "   CALL OR TEXT NOW..    METAL DETECTOR MAN…949-500-2136