I received an email on Thursday night from Keila saying her husband of five days had lost is his wedding band in Mauna Lani at the Fairmont Orchid on the Big Island of Hawaii.
Normally my husband Brent and I work as a team metal detecting on the Big Island, Hawaii with Brent doing all the in water searching and me covering the sand. As he uses a more sophisticated Minelab he can also detect better around all the mineralized lava. My detector is my trusty pulse induction Garret Sea Hunter. I have successfully recovered a ring before with it and found gold but not while in waist deep water. (It's great for SCUBA).
Unfortunately Brent was away on a job so I needed to make a judgment call as to weather I would be capable to search with a good chance of recovery. I looked at some pictures and the bay which was very protected and looked very sandy.
Keila and her new husband Matt assured me that it was very shllow and there was little water movement. I told them I would have to wait until Saturday and could go out then and please let me know if there had been any other detectorists.
I hired a friend to help me dig and we met Matt on Saturday morning. Unfortunately what I did not realize was that it is probably a man made lagoon and that there is a lot of lava rock underneath the sand which Is not very deep, maybe 3 inches before hitting lava. have heard not all detectorists in the area try to return the rings.
I set out on a search pattern in the small area and getting a lot of small and false signals. Also the water was more like 2-4 feet deep and I did not bring any scuba with me.
I looked for about 1.5 hours and then Matt and Keila had to go catch their plane. I assured them I would keep looking.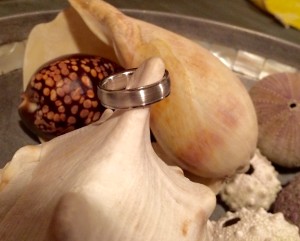 I got some strange signals near the rocks but mostly half a signal, only beeping on one swing of the detector and not two. I was getting distraught thinking Brent would need to come out with is Minelab if no one else found it first.
I decided to do one last sweep of the area and then I heard it, a proper signal, actually a double beep and on each swing of the Garrett! I asked my assistant to dig and there it was! A very nice 14k brushed white gold ring!!! Yay my first in water recovery! I immediately sent
a message to Matt and Keila who were already at the airport. What a great feeling knowing there honeymoon ends with happiness and I will soon be sending them the ring!!!
For lost rings on the Big Island of Hawaii contact us at (808) 430-5660 , email info@bigislandmetaldetecting.com or visit www.bigislandmetaldetecting.com