For once, it is the police who needed a hand and I was the guy with the right gear for the task.  Officer Karen H of Boise Police Department was enjoying some free time with her son when she realized her necklace was missing the one item that meant the most to her.  The sacred religious pendant her mother gave her.
One good thing about the police, they know how to collect data for search.  She had photos of the item, googled the area and circled the most likely place to start the investigation.  When you are told it is at a soccer field, those little tips become quite helpful and it paid off in saved time.
After some strategic West/East grids of area making sure coil was overlapping with exact precision, the detector responded with the tone I had expected.  Sure enough, there it lay in the green grass just below eyesight.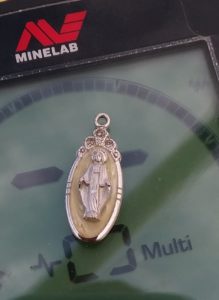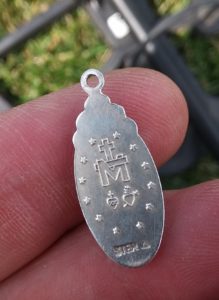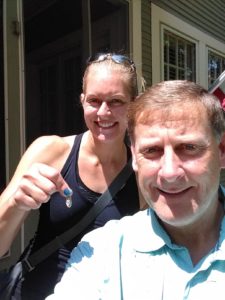 A quick pic with the cell phone and email off to her to confirm…YES it is the piece she was missing.
Here is her testimonial:
« While playing with my children during a Fourth of July celebration I was heartsick to realize I had just lost the l Miraculous Medal pendant given to me by my aunt who had passed away. After spending three mornings searching through the grass on my hands and knees I finally contacted Gerry who located this sentimentally valuable item within hours of our contact! »